Take your customers from Finance Quote to Financed with our Dynamic Desking Tool!
So, you've got a curious customer, but they want to discuss their options before signing the dotted line. How can you convert them? Using the DealerCenter Dynamic Desking tool, you can work out payment options to take your customer from Just Looking to Sold!
What is Desking?
Desking is what you call the process of working out payment options with an interested customer. The payment options are also known as a finance quote. For many used car shoppers, price is a major concern, so they want to see what options they have before signing any paperwork or committing to running their credit for a lender.
Desking allows you to do the pre-work of figuring out the numbers with the customer, so you can guarantee a solid sale quicker.
What types of deals can I desk?
Although working out payment options is often connected to Finance deals, you can also work Buy Here Pay Here and Cash deals in the DealerCenter Desking tool.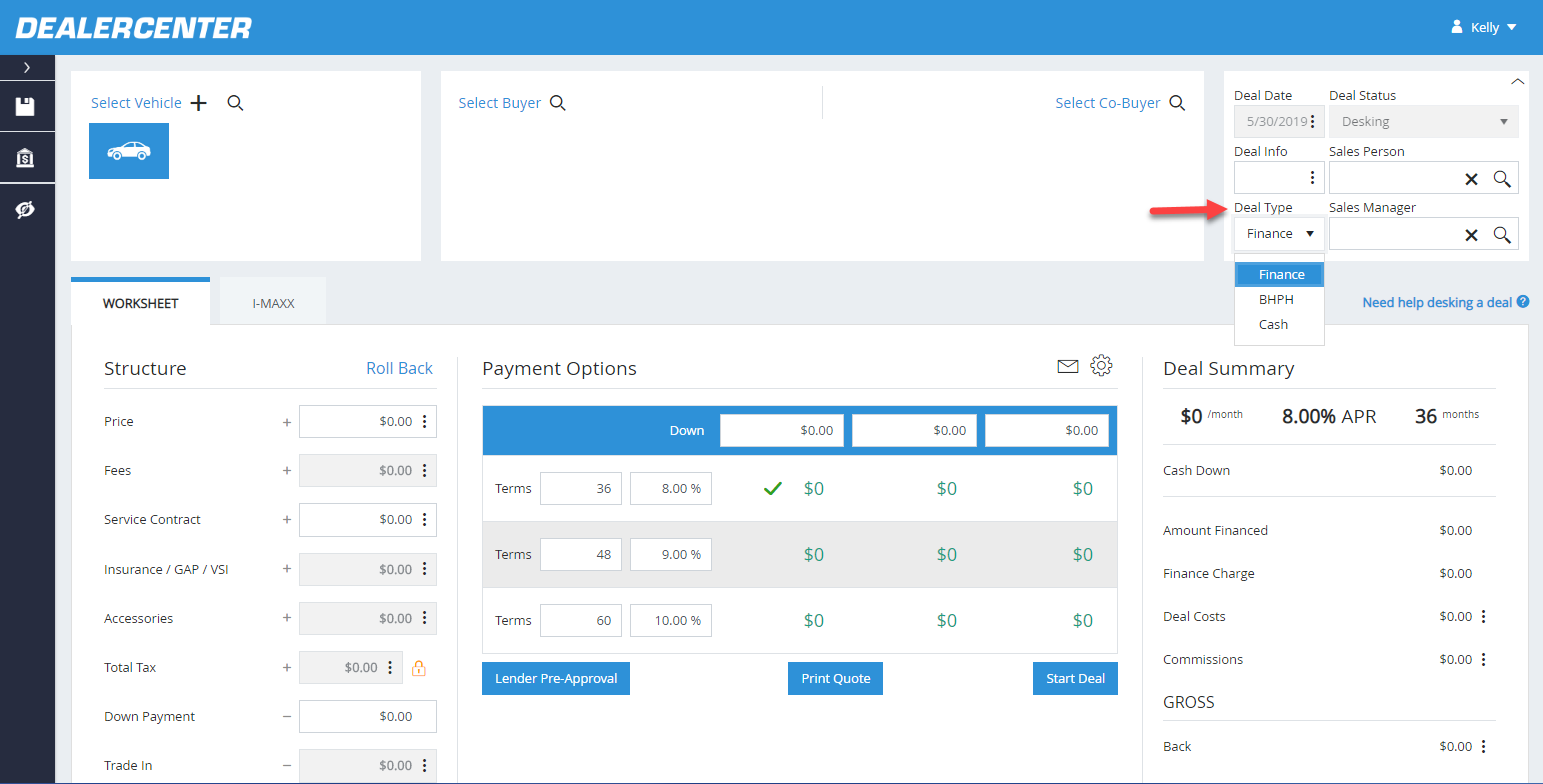 What information do I need from my customer?
The amount of information you'll need from your customer depends on the type of deal you're doing. If the customer is wanting to do Cash or Buy Here Pay Here deal, you'll likely need a ballpark figure of how much they want to pay for a car, what car(s) they're interested in, and a good phone number and/or email to reach them for a follow up. If your customer wants to get financed, you'll need that plus an idea of how much they can put for a down payment, how much they're looking to pay monthly, and an idea of what their credit score is.
If your customers don't know what their credit score looks like, you can pre-qualify them through the DealDriver tool in DealerCenter which works seamlessly with the Desking tool. 
How do I input…?
The DealerCenter Desking tool can store all the information you need to make a deal happen.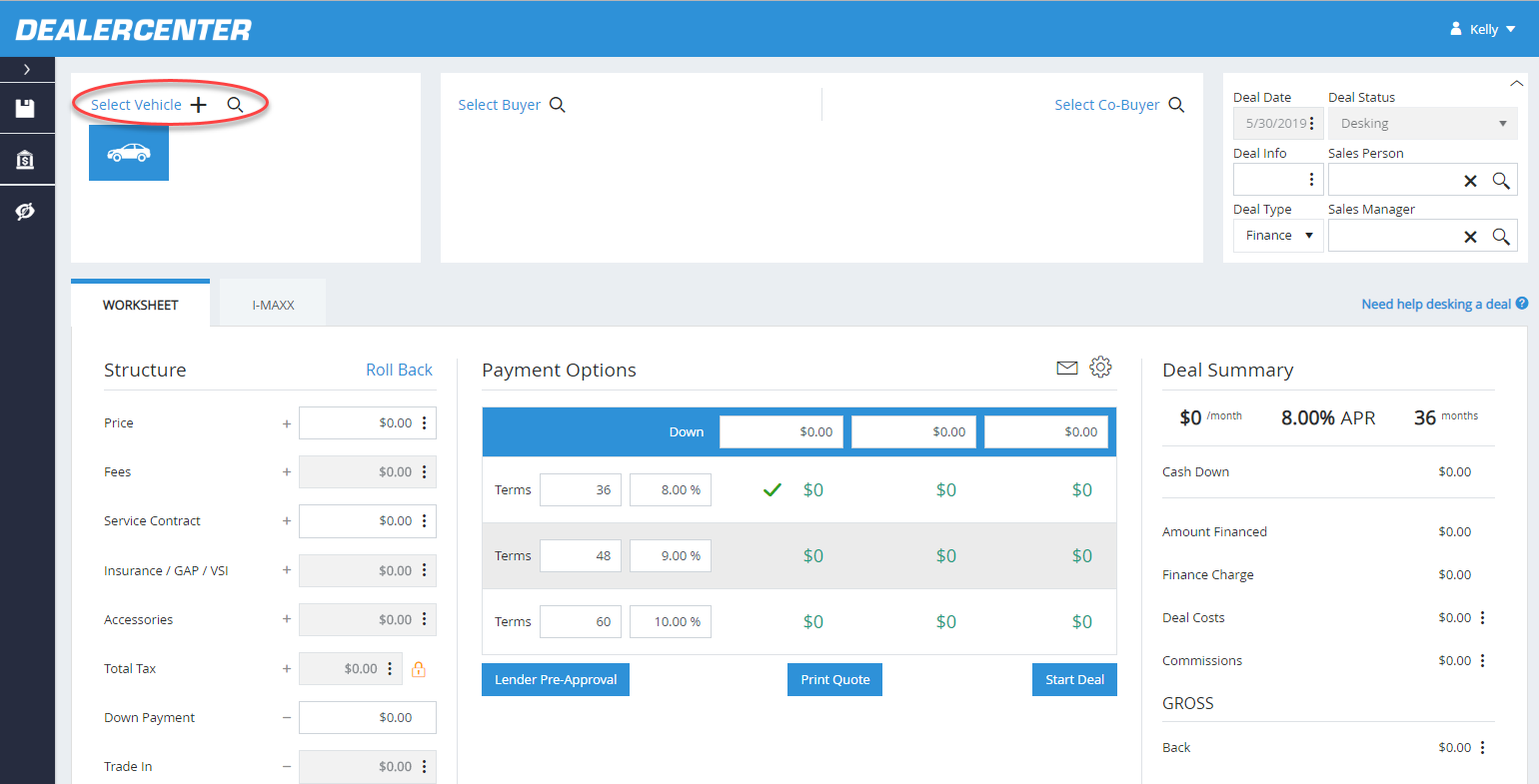 VEHICLE
To start, you want to choose the vehicle the customer is interested in. From there, the taxes and fees will populate according to the vehicle price. You can also add a trade-in, if applicable.
NOTE: You can desk a deal without inputting customer information, but if the customer seems at all interested in further pursuing the deal, it would be best to save some of their information.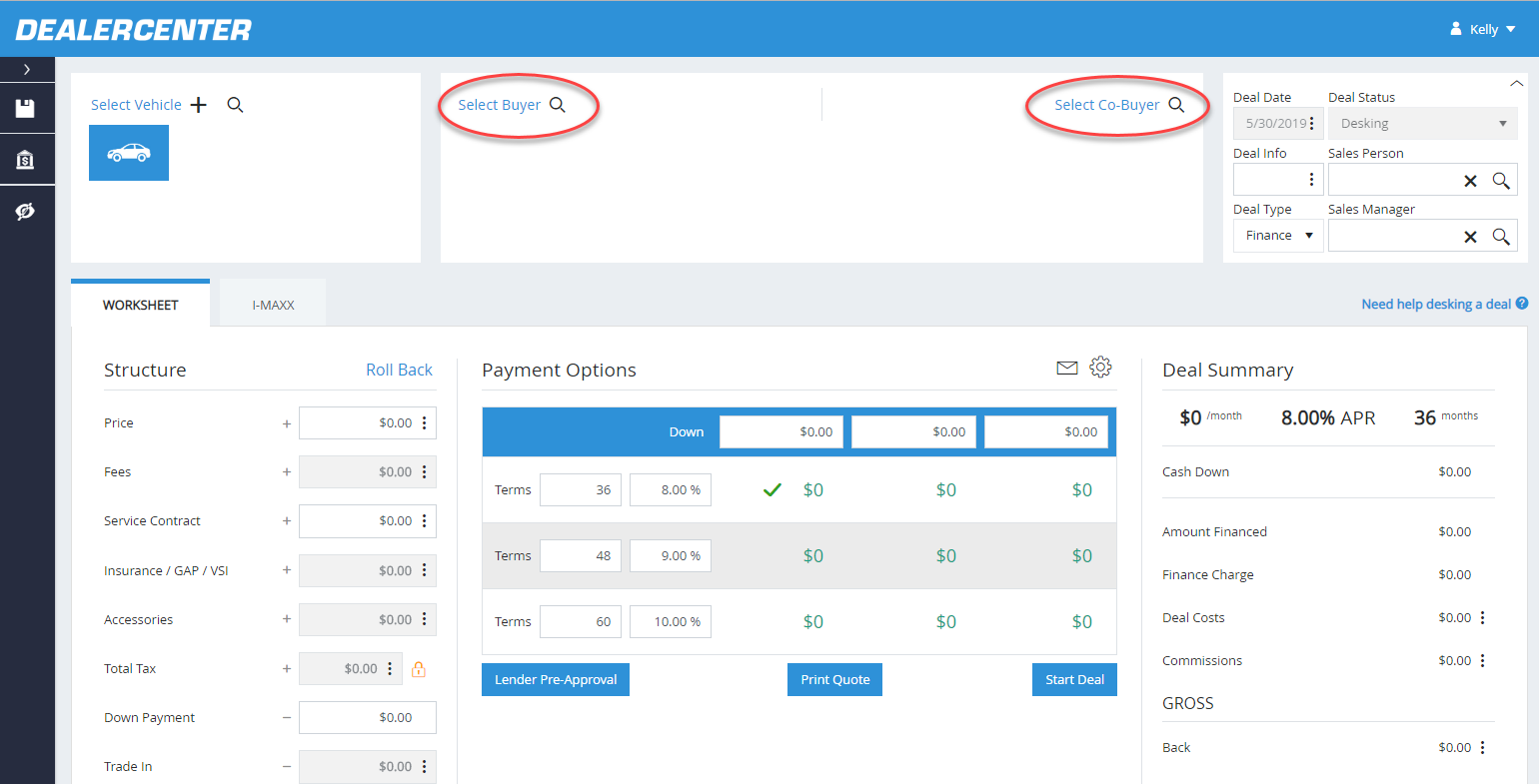 CUSTOMER
Under the "Select Buyer" section, you can add an existing customer or input a new customer. If applicable, you can also add a co-buyer in this section. If your customer is ready to fill out a credit application, you can email or text a link to your customer.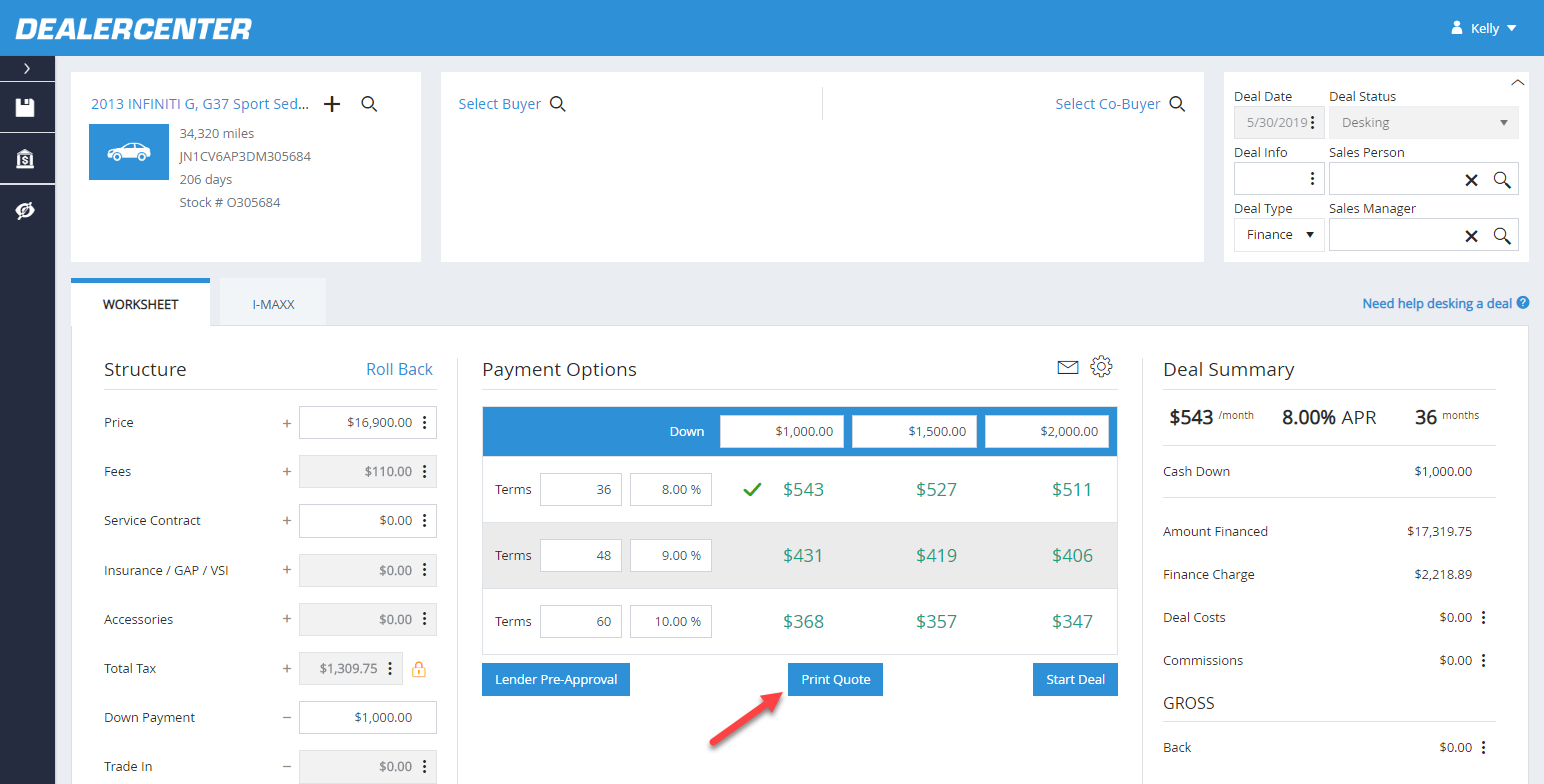 DEAL
After at least inputting the vehicle information, you can input the terms, rates, and down payments in the matrix to display payment options. You also can adjust payment frequencies under the trade-in section. If the customer wants to see a print out of the matrix as they make their decision, you can click the "Print Quote" button at the bottom. If the customer would like an emailed version, you can click the envelope button above the matrix. 
What does Roll Back mean?
The roll back tool is used to be able to adjust the out the door price (or amount financed), monthly payment, or total sales price to change the down payment or vehicle price for the deal.
How do we go from Desking to Deal?
Once the customer has reviewed their finance quote and made the decision to move forward with the deal, you can click the "Start Deal" button on the bottom right corner of the deal matrix. This will bring up the window to work the deal. If you're working with a finance deal, you will need to get the customer's information to run their credit.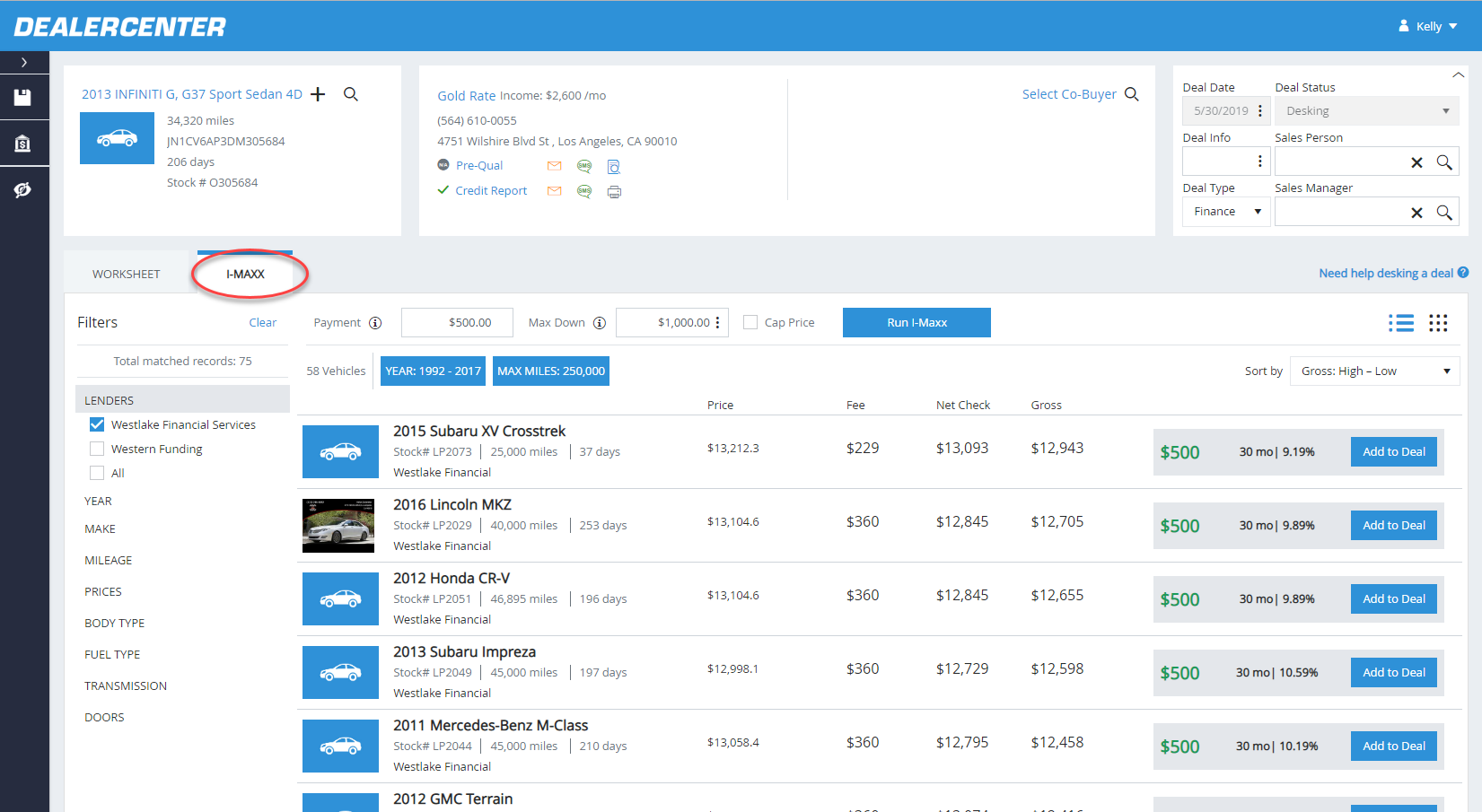 However, you can still continue to desk the deal after running a customer's credit. The I-Maxx feature allows you to make a match between the customer, one of your lenders, and one of your vehicles. Additionally, if you are set up with any of our preferred lenders, you can see the decisions from them. After that, you've got a solid deal!
For more assistance, contact DealerCenter Support or your DealerCenter rep.